This page is to feature all the Polaris GPUs I have worked on.
What is there to like about repairing Polaris cards?
Well trodden ground i.e. well analysed by repairers, like this excellent guide https://repair.wiki/w/AMD_Polaris_GPU_Diagnosing_Guide
they are very popular, lots on the market.
Still quite fun for HD gaming
As AMD/Radeon cards go, most Polaris cards can use tserver to narrow their very common memory issues
What is there not to like about repairing Polaris cards?
BGA issues – Due to their often generous memory (8Gb) and reasonable price point, they have often been a popular choice for miners. As such, they can suffer from thrashed memory and worse, memory controllers, making some unfixable for many people.
These cards feature I2C PWM controllers, which can be challenging in that reprogramming may be required.
RX 460
RX 470
RX 480
RX 560
RX 570
ASUS ROG Strix
XFX Black Edition
RX 580
For me, the RX 580 is a classic card! There are a lot of varieties, this is my favourite that I have worked on: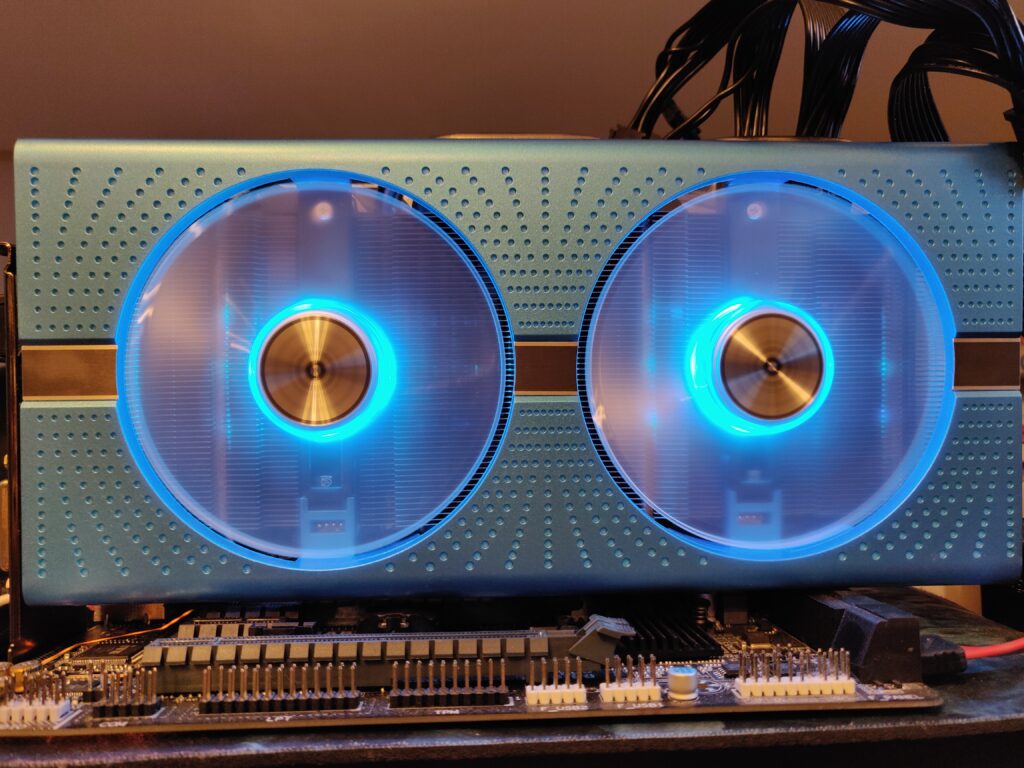 MSI RX 580 8Gb Armor (Low resistance on 5V rail)
Asus Dual RX580 8Gb (Missing VDCI, VMem, VCore)
PowerColor Red Devil RX 580 OC (Intermittent voltages and detection)
Sapphire NITRO+ RX 580 8Gb Special Edition (FIXED/IN TEST/FAILED AGAIN! – Initially feared a dead core, but luckily it seems to be only a faulty PEX reset logic gate – now not detected/no fan spin)
XFX RX580 8Gb (Card A) (FIXED, MORE TESTING, VRAM replaced, 5V LDO replaced, need to test, possible VRM efficiency issue)
XFX RX580 8Gb (Card B) (FIXED Gets to windows, possible heat problems, missing VRM screws, needs clean, repaste and retest)
XFX RX580 8Gb GTS XXX (Card C) (WORKING, MORE TESTING Seemingly OK, needs more stress testing, missing screws)
XFX RX 580 GTS XXX 4GB (WORKING reported as faulty, under test)
SAPPHIRE RX 580 4Gb NITRO+ (F, Had corrosion, needed new thermal pads, BIOS issues)
GIGABYTE AMD Radeon RX 580 8GB (Missing VMem, VCore)
ASUS ROG Strix RX 580 8Gb (Seller Note 'Not working correctly – lines are displayed on the screen as per the photo' – does have this problem, tserver reveals failing A0 chip)
ASUS ROG Strix RX 580 8GB (Has a damaged ITE 8915FN-56, hopefully, this is all and can be replaced, nice looking card)
RX 590
These cards are great! They will play 1440p quite well. Juicier, but have more powerful core performance than 580s.