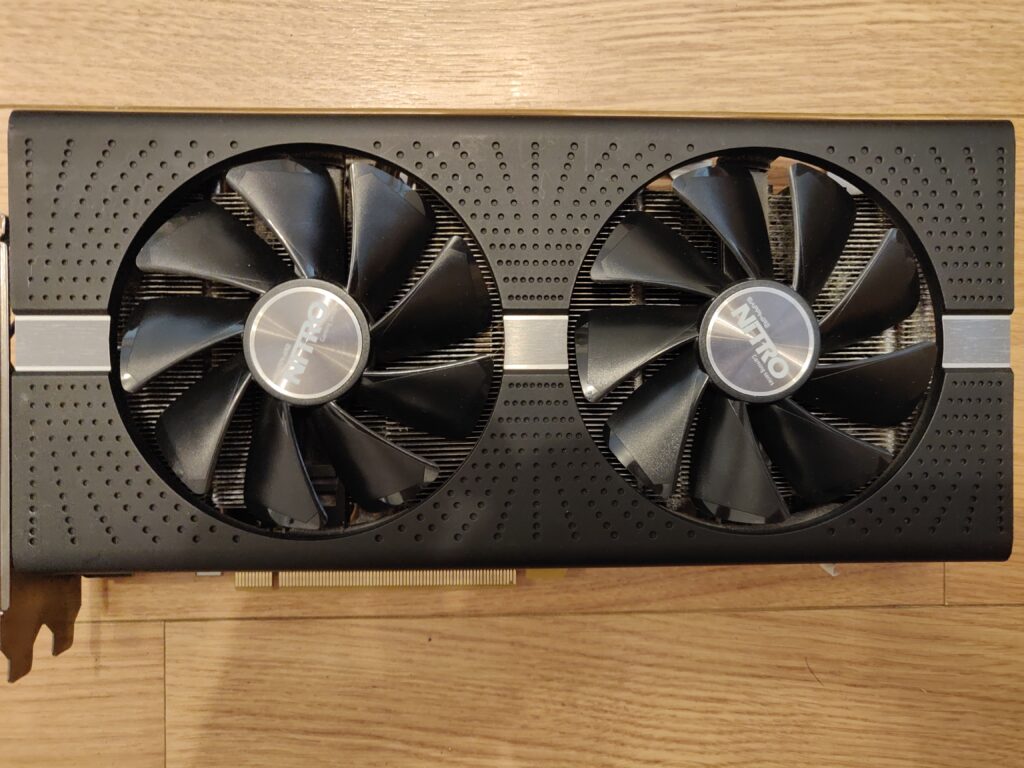 Seller Note "We noticed some liquid damage. Dead"
Summary
Resistances

Vcore 0.8
Vmem 33
VDCI 22
Display Rail 17.6 ?
12v PCI 4.6K
12v ext 2.7 K
2.46 K

Stripped down, cleaned up what appears more like corrosion (see picture below) due to being stored in a damp place rather than the liquid damage as stated by the seller.
Has picture! Testing after replacing the heatsink and fans. No crashes seem yet, a slight pause noticed during Kombuster. Kombuster passed, Subnautica fine, but has an unusual choppy GPU and memory controller load profile (see picture below). The temperatures seem OK, but don't want to push it, in case there is a VRM issue.
Strangely TPU thinks that it's a 580 series and 4gb, but it's lookup leads to a 570 4gb screen (see picture)? There is a slightly pealed sticker on the side listing it as RX580 4gb.
There is also a BIOS switch, I should test this. I wonder if it's BIOS has been messed with.
Very happy that the card mostly appears to work after a thorough clean anyway since it was listed as dead and very cheap.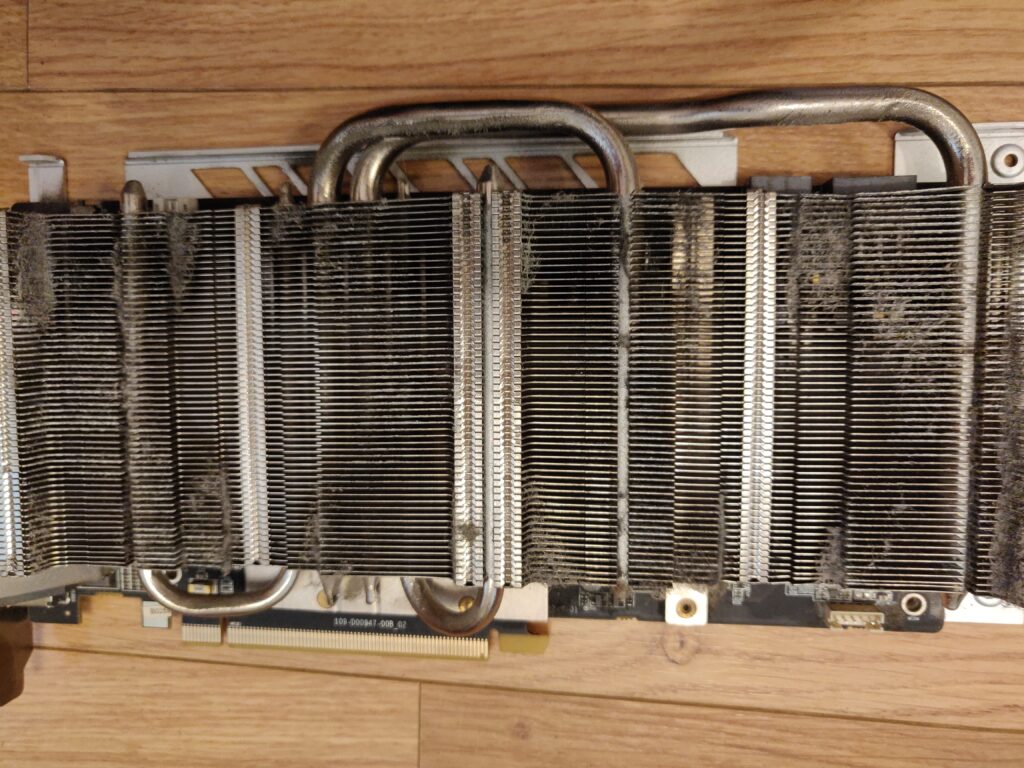 At first, the card was very dirty and the heatsink has signs of corrosion, which looked like the above picture. I Cleaned this up mostly with a toothbrush, but it will need a little more abrasion to be completely clean.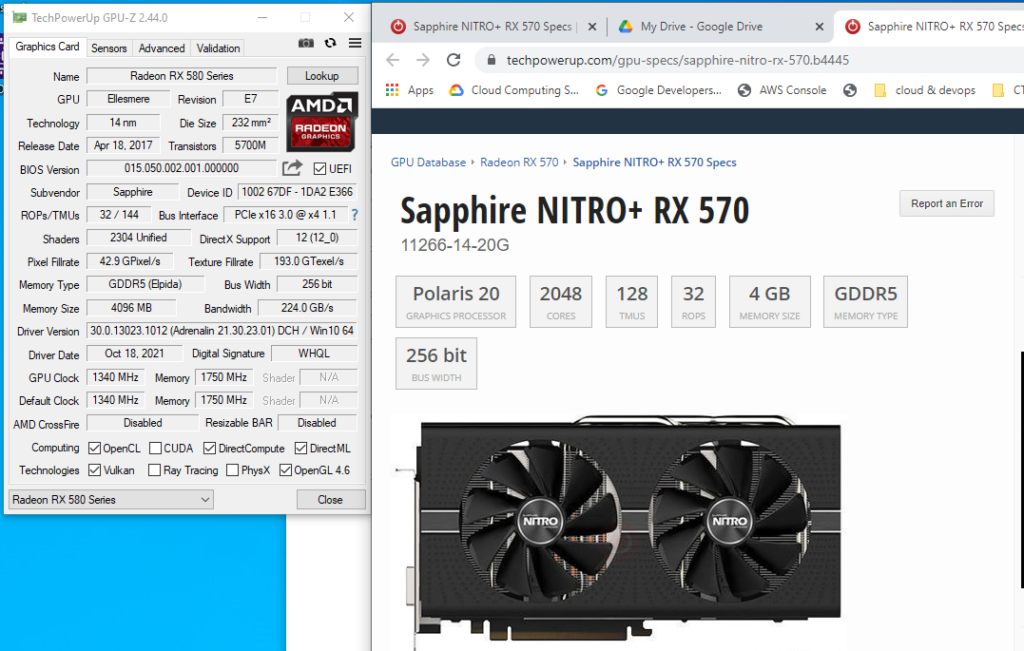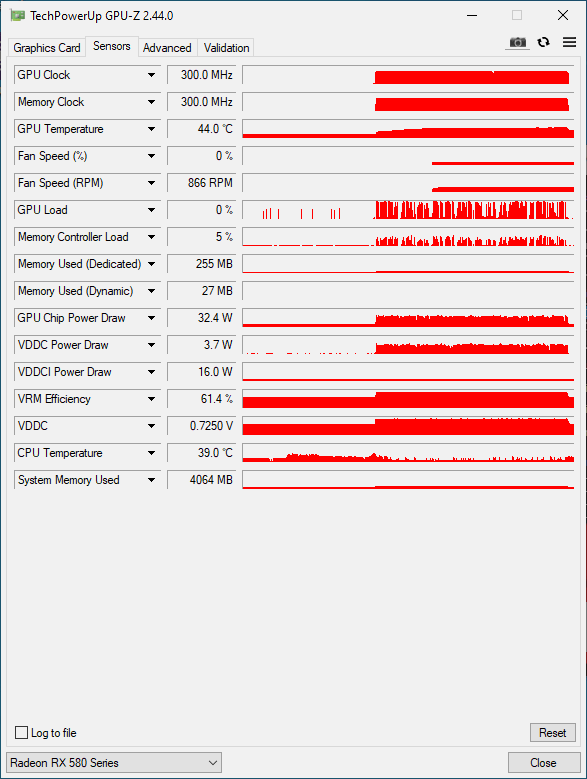 Next Steps
Test alternative BIOS.
Understand choppy GPU / memory contoller load graph in TPU.

Maybe there is a VRM issue, the VRM efficiency fluctuates a bit.
Test phases, possibly there is a bad MOSFET.
Perhaps the VRM cooling bad seemed too hat during testing, could be another sign of a VRM fault.

Understand misreporting of card type in TPU.
Needs new thermal pads
The VRM cooling bar needs paste
Update 03/10/2022 – Repaste, repad and more testing
Actually, having looked at this card again, the cooler might have corrosion and the thermal pads all tired, but the PCB appears in good condition. A quick test in GPU-Z and I can't see the same concerns around VRM efficiency and cooling. It may just need a good clean, paste and new thermal pads all-round.
Kombuster seems to run a bit poorly, and it thinks the card is a RX 480! There is something unusual about this card's BIOS perhaps? OK, so the speeds of the core and memory on this card seem to match exactly the Sapphire RX 570 Nitro+ https://www.techpowerup.com/gpu-specs/sapphire-nitro-rx-570.b4445. I think the FPS is also more in line with a 570.
3D Time Spy looks nice and smooth (scoring about average)
The thermals are looking very good now – steady 74 degrees C
Heaven looks nice and smooth.
VRM efficiency can be as high as 92.5%, but tends to be at least in the 80s and averaged about 90% in Heaven which is perhaps perfectly good.
OK, so what card is this actually?
Well, it has the 8 + 6 pin PCI-E connectors, so it is not a pulse dressed as a Nitro+
It doesn't have the same VRM or sideways PCI-E as my rx 480 Nitro+, so I am guessing it is either a 580 or a 570 Nitro+. Most of the stats look like the rx 580, except the core clock and it thinks it's Ellesmere which is rx 480, rx 570/80 should be Polaris…
On the board, there is the marking 109-D00947-00B_02 which mostly seems to equate to the rx 580 https://www.techpowerup.com/gpu-specs/sapphire-nitro-rx-580-4-gb.b4433. Also after switching the BIOS, the 2nd BIOS identifies as the expected RX580 4Gb Sapphire Nitro+ with clock of 1411Mhz.
Kombuster and Furmark still think it's a rx 480. Comparing to some of my other RX 580s, they too seem to be identified as RX 480s by Kombuster and Furmark, so this is likely a non-issue.
But Time Spy scores it 'Good' and Subnautica looks good, good VRM efficiency ~90%
Heaven HD Ultra is running well
tserver passes, but with [error][ProfileEvent] Failed to get VDDC avg. current
The card thinks it has the correct BIOS already
C:\gputesting\amdvbflash_win_3.31>amdvbflash.exe -i
AMDVBFLASH version 3.31 EXTERNAL, Copyright (c) 2021 Advanced Micro Devices, Inc.


adapter bn dn fn dID       asic           flash      romsize test    bios p/n
======= == == == ==== =============== ============== ======= ==== ==============
   0    01 00 00 67DF Polaris10       M25P20/c         40000 pass 113-1E3660EU-O55

C:\gputesting\amdvbflash_win_3.31>amdvbflash.exe -fp -p 0 Sapphire.RX580.4096.170323.rom
AMDVBFLASH version 3.31 EXTERNAL, Copyright (c) 2021 Advanced Micro Devices, Inc.

Flash already programmed

More stress testing, but looking good so far.
Newsflash for Rupert!
I have subsequently realised that all RX580 cards that I have identified as RX480s in Kombuster and Furmark, regardless of BIOS.
This card tested well in my main PC and has now been sold.