Seller Note "LED's light up and the fans spin but that's it. No display. Died on me after 5 years of loyal service."
Summary
Was cheap, OK condition cosmetically, even has the box disk etc
Resistances

VCore – 0.9
VMem – 28.8
VDDCI – 21.5
Display Rail – 28.7
1.8V – 4K
5V – 1.995
3.3V – 220.6
12V – K++ (PCI), 1.9 Short! (8pin EXT)

Both fuses on the 8 pin PCI-EXT are blown
OK, this matches with the seller's description – Not detected, LEDs, but no fans
Investigating the short on 12V
The ESR readings for each phase show the U4013 as slightly lower.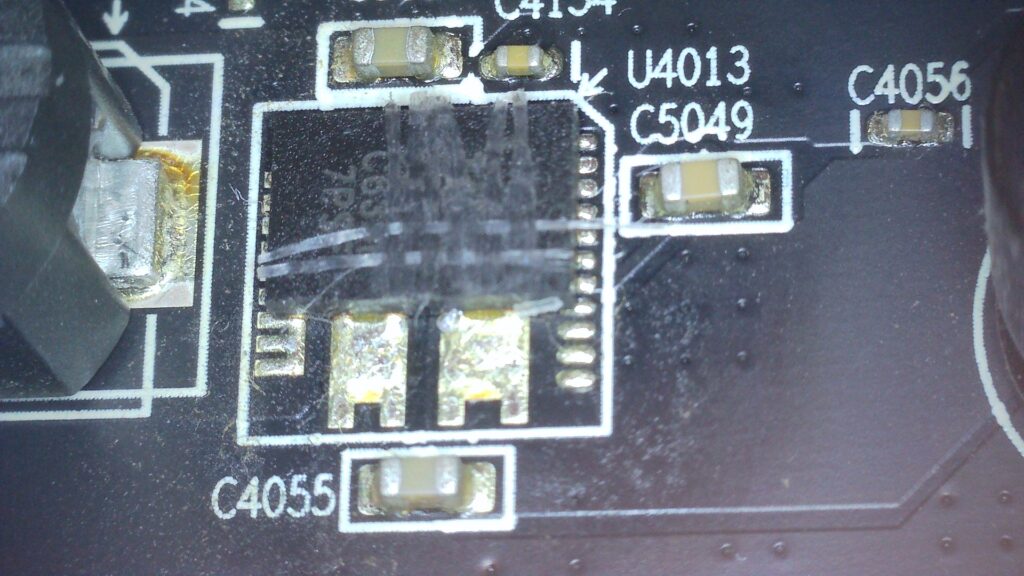 Removing U4013 sees the 12V EXT rail's resistance rise to 390. However, this still seems low for a 12V rail, so there is possibly another issue somewhere.
I want to test whether this card can safely take 12V, so I will:
Inject 12 V (going up in stages) and check if any current passes and if so any warm areas – this seemed fine, the card took 12V injected without passing more than 0.1Amps. No voltage was detected on any phases.
Replaced the two blown PCI-E fuses with new 10A fuses.
Power on testing:
All voltages are present and seemingly stable.
No picture as far as I could find on any ports.
PEX reset seemed present.
Haven't checked the BIOS for signals yet.
The card is detected (good).
Both BIOS settings appear unreadable (no BIOS version, repeated device id in GPU-Z)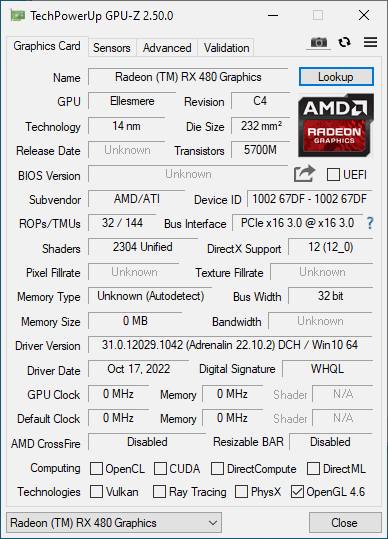 Next steps
Try to reflash of the BIOS from windows (don't have much hope of this working, but easy to try)
Work out which chip is selected, check the BIOS is contacted from the core with an oscilloscope
Possibly replace the BIOS chips with new ones.
Possible the resistors to the BIOS are faulty.
As expected, the attempt to simply reflash the BIOS from windows didn't work. Whilst it said it succeeded, the result was the same. Also, I spotted the same crazy sensor readings as on my other two faulty rx 480s, I am leaning towards a faulty core diagnosis now. This would fit with my earlier concern that 12V reached the core previously.