Seller Note "power throttles because it thinks it's drawing 400w at idle so won't go beyond 135mhz."
Summary
It's this one https://www.techpowerup.com/gpu-specs/pny-gtx-970.b3133
The resistances look fine.

VCore – 3.6Ω
VMem – 97.3Ω
PEX – 396.5Ω

5V – 507.1Ω
3.3V – 874Ω
12 V Slot, 2 x 6 pin – M range, highΩ

Loads driver in windows and seems stable, but shows a PowerCap limit as indicated by the seller's note.
My attention immediately went to the INA 3221. On inspection, there appears to be damage to a resistor there (see below). The pad could be ripped under the lifted end.
By the usual-looking solder blobs and shiny appearance, it appears someone else has been trying to fix this problem.
The faults seem in part due to prior work by the seller – two resistors of the wrong values, 0Ω not 20Ω and either a faulty or badly soldered INA 3221
Investigating the power issues
Here we can see the card seems to have a problem with PCI-E 6 pin #1 power and voltage measurements.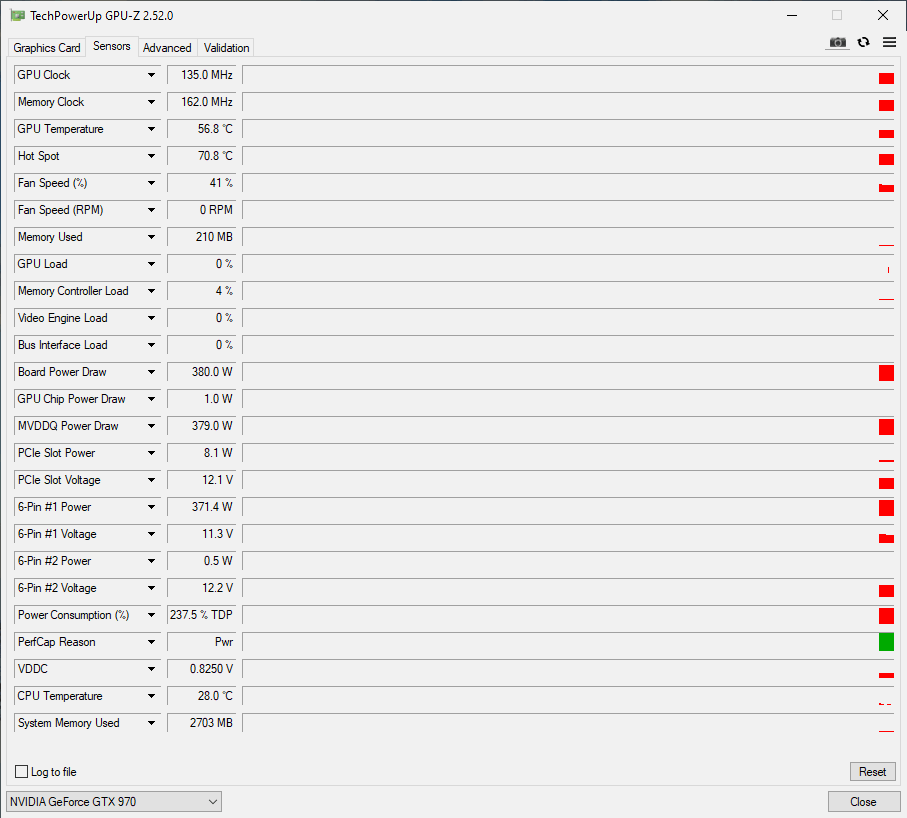 Taking a look at INA 3221 we can see some damage to the resistor on the left and also traces of excess solder around.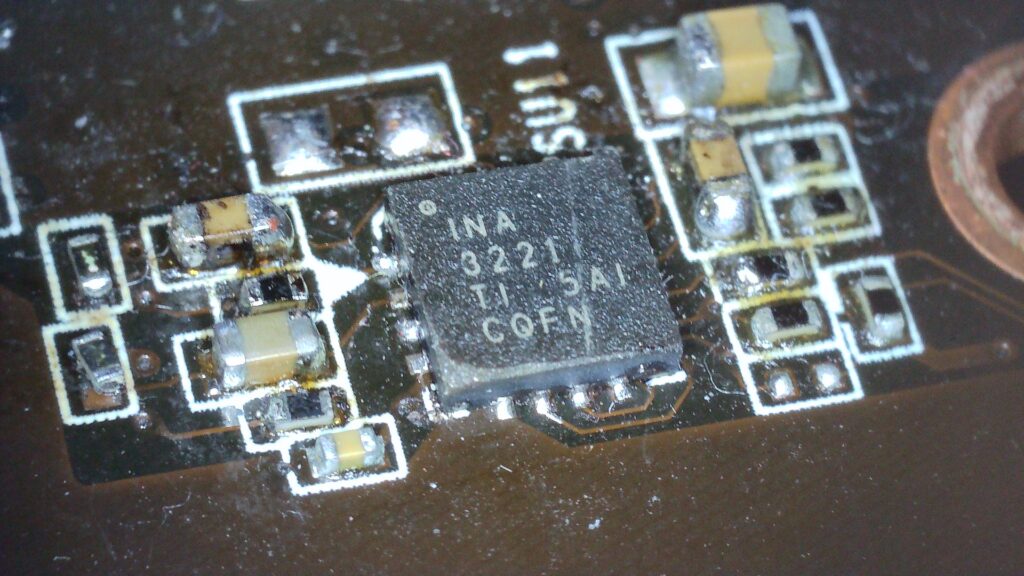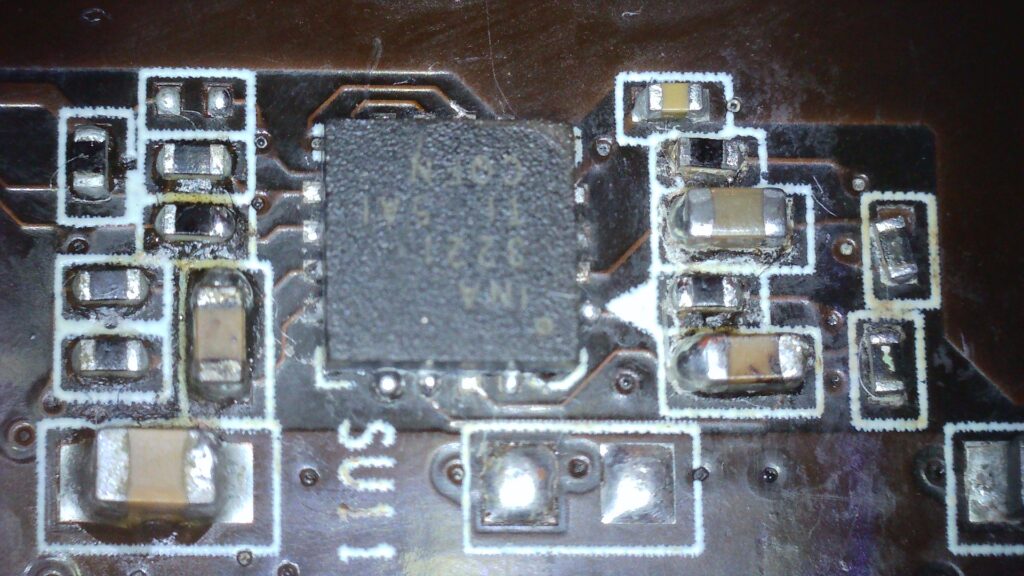 https://www.ti.com/lit/ds/symlink/ina3221.pdf
Next
Confirm resistances above (need to check I associated the right readings to the right rails) – done
Get solid measurements around the INA before any work – done
Be prepared to fix that pad and restore trace connectivity in two places – done
Update 27/12/2022 – Working on the INA area
It's clear from the state of some of the components and the solder blobs that someone also tried to repair this area, hopefully, they simply gave up and there is nothing badly wrong.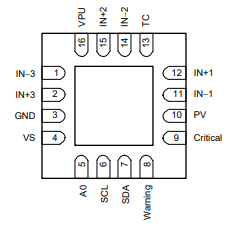 Mapping out the connections and components we have: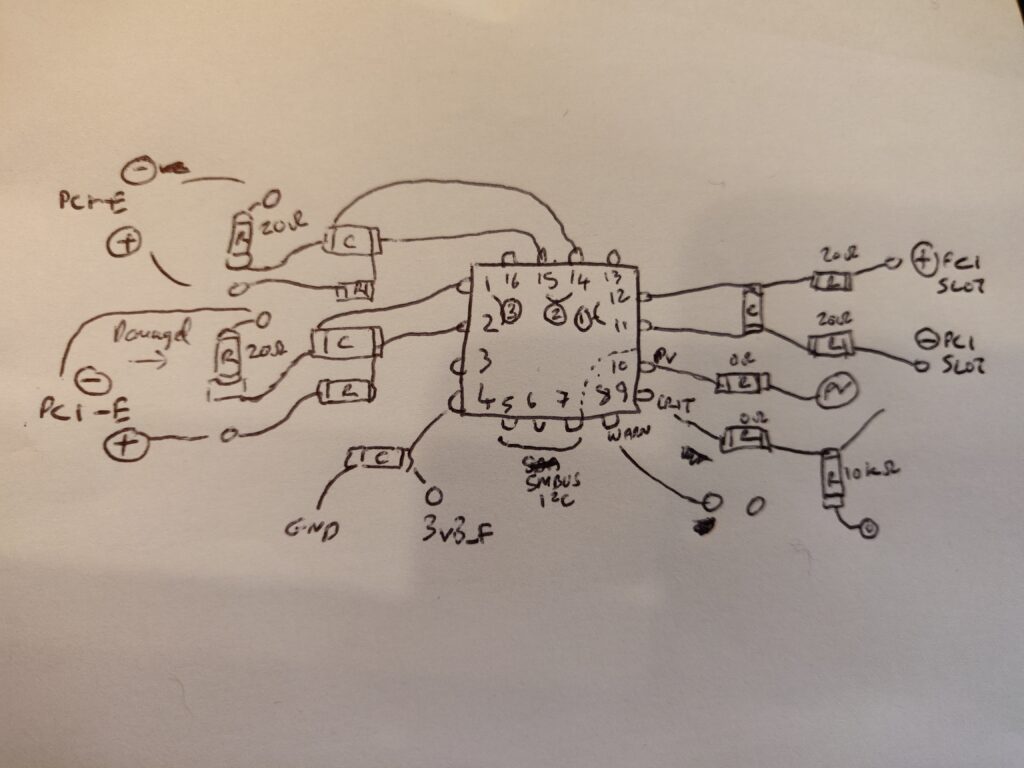 I noticed that the two resistors on the left were 0Ω, whereas I think they should be 20Ω like the others. So I replaced them with new 20Ω resistors. Retesting shows the same misreporting of power/voltage on PCI-E 6 pin #1. Unfortunately, I don't know which PC-E number #1 is? Perhaps it's a hint that MVDDQ is also reading high?
Here are the possibilities as I see them at the moment:
The circuit is still faulty – I can see 12V coming in on each end, but perhaps one of the capacitors is faulty. The resistors should be OK now.
One of the PCI-E shunt resistors is faulty
The INA chip itself is faulty
MVDDQ is pulling too much current – but if so, there doesn't seem to be any display issue
Fix and testing
Let's think about this logically, if the voltage is equal across the 3 capacitors connected by 6 equal resistors, then it's likely that either:
The INA pads/connections are faulty
The INA 3221 is faulty
I have tested the resistors are reading correctly, the capacitors have equal voltage and I don't expect that the card actually has overcurrent or at least not to the ridiculous level indicated by the readings. Therefore, we can remove and inspect under the INA chip: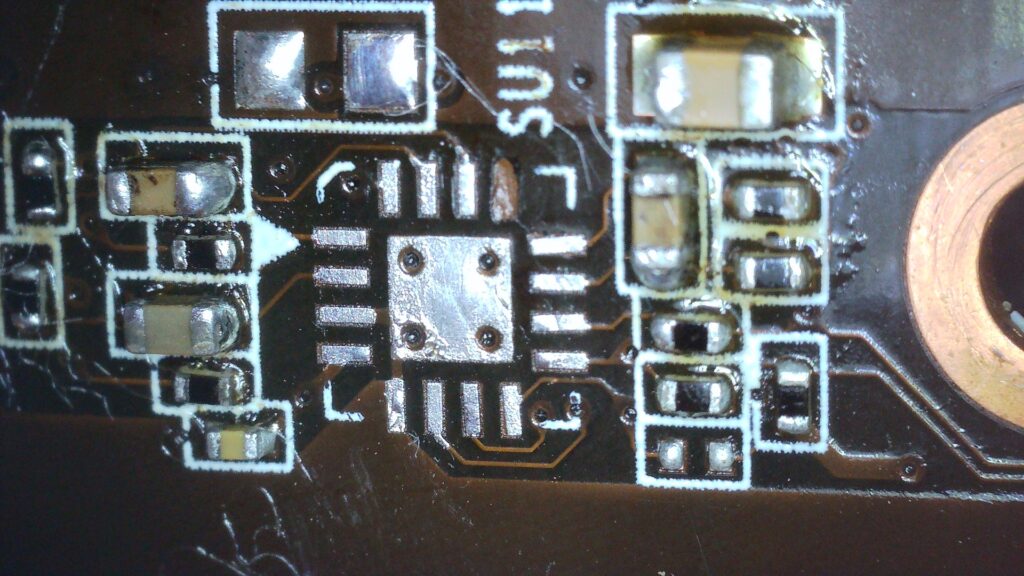 It seems that empty pad is not connected, at least not on this specific card. Applying fresh leaded solder to the pads and hot air to solder a new INA 3221 chip yields a working card!
In early testing, I guessed the card was fixed because it overheated with a small heatsink and went blank before I could inspect GPU-Z! Not great, but hopefully no lasting damage.
Testing Notes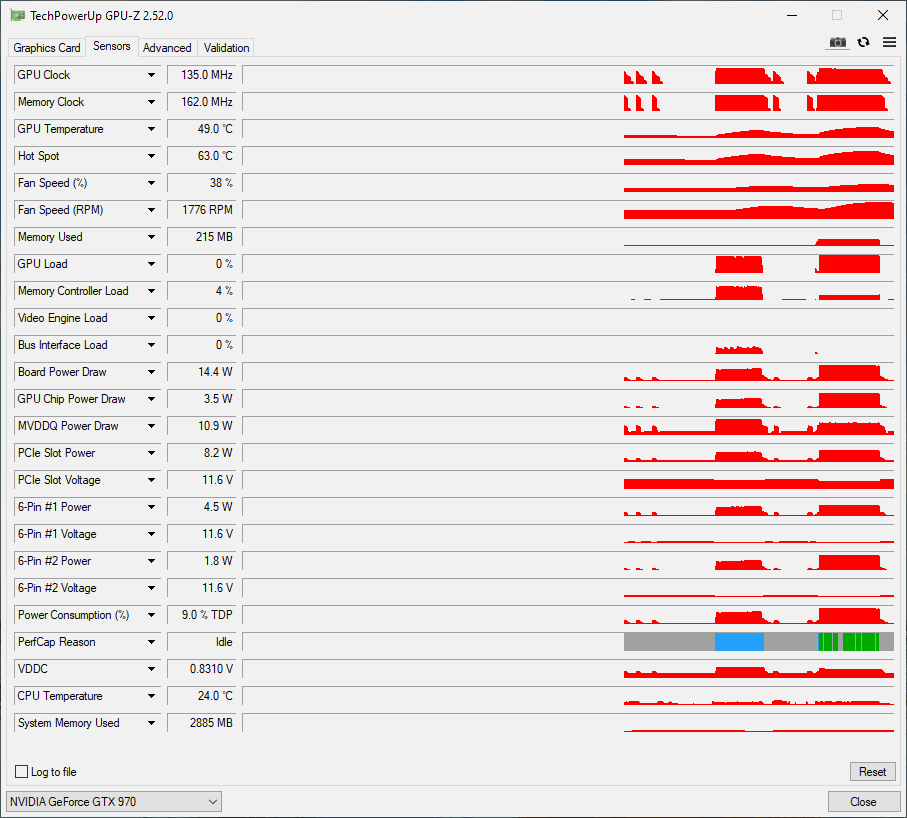 The cooler on this type of card seems pretty rubbish! The resting temperature is good 26.8°C and hotspot 40°C, but load quickly results in quite a hot PCB and core. It can pass Kombuster HD benchmarks, but I wouldn't say I like this style of card.
I am not sure if the mini display ports are working, but the DVI and HDMI seem OK.
Some minor corrosion on two of the screws an the cooler, 1 screw missing.
Happy with what I have learned from repairing this card, but not sure whether to sell this card. Guess I could sell it cheap.
Scored Great on 3D Time Spy 3362 (average 3312)
Subnautica main screen, 99% GPU load, steady 70°C, hotspot 84°C, Power limiting
Should be stable enough to use.