Seller Note "The graphics card randomly turns off."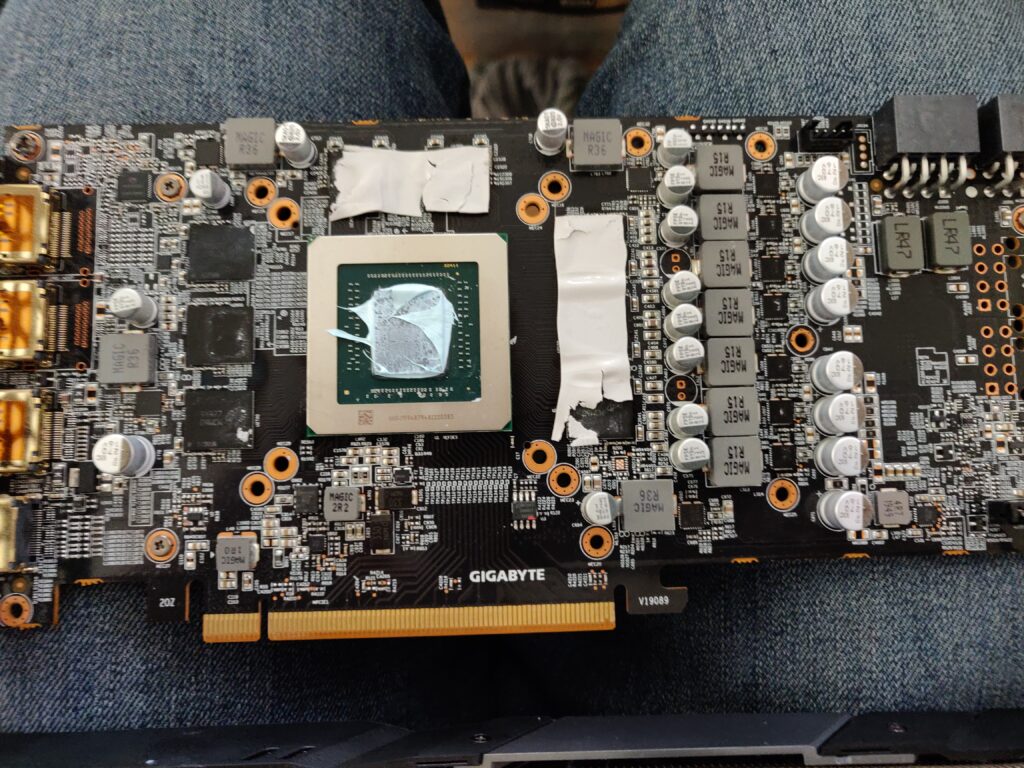 Summary
It's a nice looking card, which I had naively hoped had some kind of fixable VRAM issue. However, it appears to be somewhat more functional, but with issues.. Part of me does not like this generation of cards (high risk of mining, run very hot), but I am also interested in them, as they represent a higher level of complexity for me to try to understand.
Resistances (I am still learning about the Navi cards and cannot recognise the various rails straight away yet, will correct these readings later)

VCore – 0.2
VMem – 50.5
SOC – 1.6 ?
Something – 8.7 could be SOC?
Display Rail or VDCI – 8.7?
1.8V – 1.3K?
5V – 511
3.3V – 1.9K
12V PCI

Slot – 6K+
8 pin – 4K+
6 pin – 4K+

As a primary card, I saw no picture and assumed the seller's description was inaccurate.
As a secondary card, I could see code 43 and a strange looking BIOS (id present, but missing clock defaults)
Flashing the BIOS was allowed in Windows 10, so I flashed on the latest suitable BIOS and a picture was restored, but only on the HMDI port! I was still pretty happy with this, as I was worried the card could be dead.
The card initially tolerated stress testing, but the thermals looked bad (to me at least), so I replaced the damaged thermal pads on the memory and checked the thermal paste. This only helped a little, after some research, I discovered that high fans, a junction temperature of 100-110 and core of ~80 degrees C can be normal for these cards! (I don't like this much). However, on the positive, the card recovers its temperature quickly when the stress is removed and is relatively quiet on the desktop.
I did some more tests but didn't want to push the card too far. At this point, I assumed that all 3 Display Ports were faulty and that the seller had hidden this. However, after reinstalling the latest drivers, all ports are now working 🙂
Basically, the card now seems functional, but there are performance issues – as the seller said, running 3D Time Spy, the card switched the PC off.
BIOS Flash
I didn't notice this before, but whilst the BIOS version Id is present, all the clock settings read 0MHz and the drivers wouldn't load (code 43 in device manager).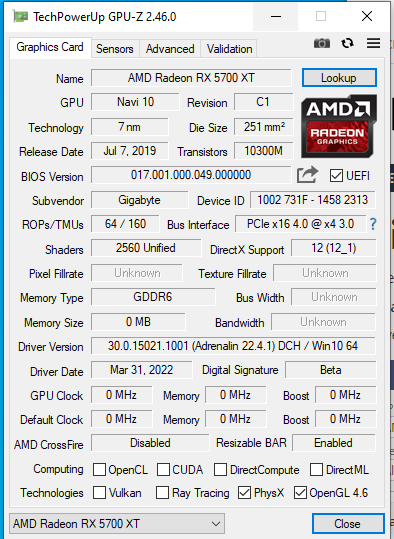 Re-flashing the BIOS seemed to fix this.
c:\gputesting\amdvbflash_win_3.31>amdvbflash.exe -i
AMDVBFLASH version 3.31 EXTERNAL, Copyright (c) 2021 Advanced Micro Devices, Inc.


adapter bn dn fn dID       asic           flash      romsize test    bios p/n
======= == == == ==== =============== ============== ======= ==== ==============
   0    08 00 00 731F Navi10          GD25Q80C        100000 pass       -

c:\gputesting\amdvbflash_win_3.31>amdvbflash.exe -fp -p 0 Gigabyte.RX5700XT.8192.190909.rom
AMDVBFLASH version 3.31 EXTERNAL, Copyright (c) 2021 Advanced Micro Devices, Inc.

Old SSID: 2313
New SSID: 2313
Old P/N: xxx-xxx-xxx
New P/N: xxx-xxx-xxx
The result of RSA signature verify is PASS.
Old DeviceID: 731F
New DeviceID: 731F
Old Product Name: GV-R57XTGAMING OC-8GD/F30/0A3A
New Product Name: GV-R57XTGAMING OC-8GD/FA0/096C
Old BIOS Version: 017.001.000.049.000000
New BIOS Version: 017.001.000.049.000000
Flash type: GD25Q80C
100000/100000h bytes programmed
100000/100000h bytes verified

Restart System To Complete VBIOS Update.

Display Ports Not Working
Strangely, this seemed as simple as installing the latest Radeon drivers. Now all ports work. I still find this a little hard to accept.
Performance Issues
This is where things are getting more complex. The problems I have noticed are:
Kombuster HD – Seems to complete fine, pretty hot, but this seems to be expected.
Subnautica – Runs OK, but usual high temperatures.
Furmark HD – runs but, I quit before the end for fear of overheating! This probably hints at a power issue of sorts.
Heaven HD Ultra – runs ok, but the frame rate is unstable and despite the GPU stating full load, with high temperatures, the GPU clock speed looks low (see GPU-Z sample below) – hints at some kind of throttling.
3D Time Spy – Started fine, but the PC shutdown after a few minutes (again, possible power issue)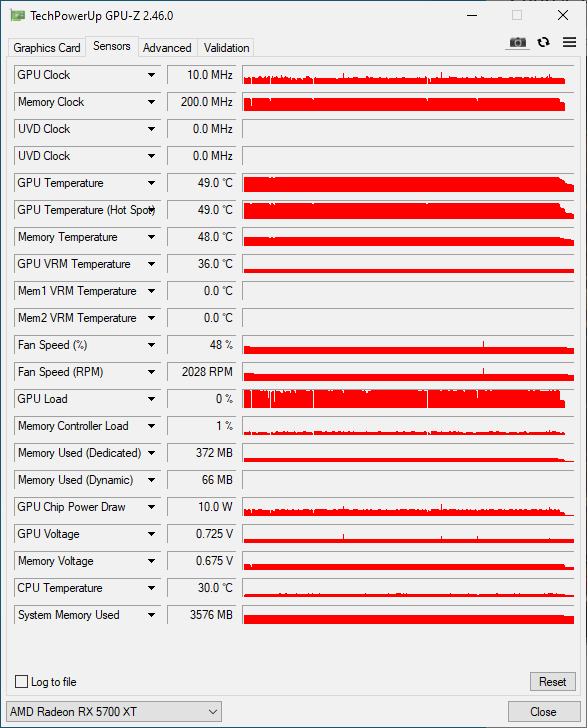 I think I need to better understand the VRM health and stability, perhaps there is an issue in there that is generating a lot of heat and potentially crashing the card?