Seller Note "Artefacts"
Summary
TODO Resistances, normal, no problems, VRAM low resistance, Samsung
Artefacts even in the BIOS screen
Code 42 in device manager
MATS reveals both B channel chips and all bits, this looks unusual to be, like possibly missing VCC. Inspecting the B0/1 area reveals 3 missing components (2 resistors and 1 capacitor). Would be nice if this solves it.
Unfortunately, the microscope shows me signs of flux around all VRAM chips, so I guess the previous owner tried reflowing! No sure if it was they bashed the components off, but the reflow could have been a waste of time and degraded the memory, hopefully not.
Great to have a schematic for this card.
Have sister card with seemingly similar previous treatment and issues, but different cause ASUS STRIX GTX 980 DirectCU II OC (Card A)
mats version 367.38.  Testing GM204 with 10 MB of memory starting with 0 MB.
Errors found. Use -matsinfo for details.
This message will only appear once.
  SUBPART     RANK0 RD ERR  RANK0 WR ERR   UNKNOWN ERR
------------- ------------- -------------  ------------
FBIOA[ 31:  0]            0             0             0
FBIOA[ 63: 32]            0             0             0
FBIOB[ 31:  0]            0        663360             0
FBIOB[ 63: 32]            0        663360             0
FBIOC[ 31:  0]            0             0             0
FBIOC[ 63: 32]            0             0             0
FBIOD[ 31:  0]            0             0             0
FBIOD[ 63: 32]            0             0             0

Rank 0 Failing bits:
   B000 B001 B002 B003 B004 B005 B006 B007 B008 B009 B010 B011 B012 B013 B014 B015 
   B016 B017 B018 B019 B020 B021 B022 B023 B024 B025 B026 B027 B028 B029 B030 B031 
   B032 B033 B034 B035 B036 B037 B038 B039 B040 B041 B042 B043 B044 B045 B046 B047 
   B048 B049 B050 B051 B052 B053 B054 B055 B056 B057 B058 B059 B060 B061 B062 B063 
   
Read    Error Count: 0
Write   Error Count: 1326720
Unknown Error Count: 0

BIT  RANK0 WRITE  RANK0 READ     UNKNOWN
---  -----------  ----------     -------
B000       41960           0           0
B000       41960           0           0
B000       41960           0           0
B000       41960           0           0
B000       41960           0           0
B000       41960           0           0
B000       41960           0           0
B000       41960           0           0
B001       81920           0           0
B001       81920           0           0
B001       81920           0           0
B001       81920           0           0
B001       81920           0           0
B001       81920           0           0
B001       81920           0           0
B001       81920           0           0
B002       41960           0           0
B002       41960           0           0
B002       41960           0           0
B002       41960           0           0
B002       41960           0           0
B002       41960           0           0
B002       41960           0           0
B002       41960           0           0
B003       81920           0           0
B003       81920           0           0
B003       81920           0           0
B003       81920           0           0
B003       81920           0           0
B003       81920           0           0
B003       81920           0           0
B003       81920           0           0
B004       41960           0           0
B004       41960           0           0
B004       41960           0           0
B004       41960           0           0
B004       41960           0           0
B004       41960           0           0
B004       41960           0           0
B004       41960           0           0
B005       81920           0           0
B005       81920           0           0
B005       81920           0           0
B005       81920           0           0
B005       81920           0           0
B005       81920           0           0
B005       81920           0           0
B005       81920           0           0
B006       41960           0           0
B006       41960           0           0
B006       41960           0           0
B006       41960           0           0
B006       41960           0           0
B006       41960           0           0
B006       41960           0           0
B006       41960           0           0
B007       81920           0           0
B007       81920           0           0
B007       81920           0           0
B007       81920           0           0
B007       81920           0           0
B007       81920           0           0
B007       81920           0           0
B007       81920           0           0
B008       41960           0           0
B008       41960           0           0
B008       41960           0           0
B008       41960           0           0
B008       41960           0           0
B008       41960           0           0
B008       41960           0           0
B008       41960           0           0
B009       81920           0           0
B009       81920           0           0
B009       81920           0           0
B009       81920           0           0
B009       81920           0           0
B009       81920           0           0
B009       81920           0           0
B009       81920           0           0
B010       41960           0           0
B010       41960           0           0
B010       41960           0           0
B010       41960           0           0
B010       41960           0           0
B010       41960           0           0
B010       41960           0           0
B010       41960           0           0
B011       81920           0           0
B011       81920           0           0
B011       81920           0           0
B011       81920           0           0
B011       81920           0           0
B011       81920           0           0
B011       81920           0           0
B011       81920           0           0
B012       41960           0           0
B012       41960           0           0
B012       41960           0           0
B012       41960           0           0
B012       41960           0           0
B012       41960           0           0
B012       41960           0           0
B012       41960           0           0
B013       81920           0           0
B013       81920           0           0
B013       81920           0           0
B013       81920           0           0
B013       81920           0           0
B013       81920           0           0
B013       81920           0           0
B013       81920           0           0
B014       41960           0           0
B014       41960           0           0
B014       41960           0           0
B014       41960           0           0
B014       41960           0           0
B014       41960           0           0
B014       41960           0           0
B014       41960           0           0
B015       81920           0           0
B015       81920           0           0
B015       81920           0           0
B015       81920           0           0
B015       81920           0           0
B015       81920           0           0
B015       81920           0           0
B015       81920           0           0
B016       41960           0           0
B016       41960           0           0
B016       41960           0           0
B016       41960           0           0
B016       41960           0           0
B016       41960           0           0
B016       41960           0           0
B016       41960           0           0
B017       81920           0           0
B017       81920           0           0
B017       81920           0           0
B017       81920           0           0
B017       81920           0           0
B017       81920           0           0
B017       81920           0           0
B017       81920           0           0
B018       41960           0           0
B018       41960           0           0
B018       41960           0           0
B018       41960           0           0
B018       41960           0           0
B018       41960           0           0
B018       41960           0           0
B018       41960           0           0
B019       81920           0           0
B019       81920           0           0
B019       81920           0           0
B019       81920           0           0
B019       81920           0           0
B019       81920           0           0
B019       81920           0           0
B019       81920           0           0
B020       41960           0           0
B020       41960           0           0
B020       41960           0           0
B020       41960           0           0
B020       41960           0           0
B020       41960           0           0
B020       41960           0           0
B020       41960           0           0
B021       81920           0           0
B021       81920           0           0
B021       81920           0           0
B021       81920           0           0
B021       81920           0           0
B021       81920           0           0
B021       81920           0           0
B021       81920           0           0
B022       41960           0           0
B022       41960           0           0
B022       41960           0           0
B022       41960           0           0
B022       41960           0           0
B022       41960           0           0
B022       41960           0           0
B022       41960           0           0
B023       81920           0           0
B023       81920           0           0
B023       81920           0           0
B023       81920           0           0
B023       81920           0           0
B023       81920           0           0
B023       81920           0           0
B023       81920           0           0
B024       41960           0           0
B024       41960           0           0
B024       41960           0           0
B024       41960           0           0
B024       41960           0           0
B024       41960           0           0
B024       41960           0           0
B024       41960           0           0
B025       81920           0           0
B025       81920           0           0
B025       81920           0           0
B025       81920           0           0
B025       81920           0           0
B025       81920           0           0
B025       81920           0           0
B025       81920           0           0
B026       41960           0           0
B026       41960           0           0
B026       41960           0           0
B026       41960           0           0
B026       41960           0           0
B026       41960           0           0
B026       41960           0           0
B026       41960           0           0
B027       81920           0           0
B027       81920           0           0
B027       81920           0           0
B027       81920           0           0
B027       81920           0           0
B027       81920           0           0
B027       81920           0           0
B027       81920           0           0
B028       41960           0           0
B028       41960           0           0
B028       41960           0           0
B028       41960           0           0
B028       41960           0           0
B028       41960           0           0
B028       41960           0           0
B028       41960           0           0
B029       81920           0           0
B029       81920           0           0
B029       81920           0           0
B029       81920           0           0
B029       81920           0           0
B029       81920           0           0
B029       81920           0           0
B029       81920           0           0
B030       41960           0           0
B030       41960           0           0
B030       41960           0           0
B030       41960           0           0
B030       41960           0           0
B030       41960           0           0
B030       41960           0           0
B030       41960           0           0
B031       81920           0           0
B031       81920           0           0
B031       81920           0           0
B031       81920           0           0
B031       81920           0           0
B031       81920           0           0
B031       81920           0           0
B031       81920           0           0
B032       41960           0           0
B032       41960           0           0
B032       41960           0           0
B032       41960           0           0
B032       41960           0           0
B032       41960           0           0
B032       41960           0           0
B032       41960           0           0
B033       81920           0           0
B033       81920           0           0
B033       81920           0           0
B033       81920           0           0
B033       81920           0           0
B033       81920           0           0
B033       81920           0           0
B033       81920           0           0
B034       41960           0           0
B034       41960           0           0
B034       41960           0           0
B034       41960           0           0
B034       41960           0           0
B034       41960           0           0
B034       41960           0           0
B034       41960           0           0
B035       81920           0           0
B035       81920           0           0
B035       81920           0           0
B035       81920           0           0
B035       81920           0           0
B035       81920           0           0
B035       81920           0           0
B035       81920           0           0
B036       41960           0           0
B036       41960           0           0
B036       41960           0           0
B036       41960           0           0
B036       41960           0           0
B036       41960           0           0
B036       41960           0           0
B036       41960           0           0
B037       81920           0           0
B037       81920           0           0
B037       81920           0           0
B037       81920           0           0
B037       81920           0           0
B037       81920           0           0
B037       81920           0           0
B037       81920           0           0
B038       41960           0           0
B038       41960           0           0
B038       41960           0           0
B038       41960           0           0
B038       41960           0           0
B038       41960           0           0
B038       41960           0           0
B038       41960           0           0
B039       81920           0           0
B039       81920           0           0
B039       81920           0           0
B039       81920           0           0
B039       81920           0           0
B039       81920           0           0
B039       81920           0           0
B039       81920           0           0
B040       41960           0           0
B040       41960           0           0
B040       41960           0           0
B040       41960           0           0
B040       41960           0           0
B040       41960           0           0
B040       41960           0           0
B040       41960           0           0
B041       81920           0           0
B041       81920           0           0
B041       81920           0           0
B041       81920           0           0
B041       81920           0           0
B041       81920           0           0
B041       81920           0           0
B041       81920           0           0
B042       41960           0           0
B042       41960           0           0
B042       41960           0           0
B042       41960           0           0
B042       41960           0           0
B042       41960           0           0
B042       41960           0           0
B042       41960           0           0
B043       81920           0           0
B043       81920           0           0
B043       81920           0           0
B043       81920           0           0
B043       81920           0           0
B043       81920           0           0
B043       81920           0           0
B043       81920           0           0
B044       41960           0           0
B044       41960           0           0
B044       41960           0           0
B044       41960           0           0
B044       41960           0           0
B044       41960           0           0
B044       41960           0           0
B044       41960           0           0
B045       81920           0           0
B045       81920           0           0
B045       81920           0           0
B045       81920           0           0
B045       81920           0           0
B045       81920           0           0
B045       81920           0           0
B045       81920           0           0
B046       41960           0           0
B046       41960           0           0
B046       41960           0           0
B046       41960           0           0
B046       41960           0           0
B046       41960           0           0
B046       41960           0           0
B046       41960           0           0
B047       81920           0           0
B047       81920           0           0
B047       81920           0           0
B047       81920           0           0
B047       81920           0           0
B047       81920           0           0
B047       81920           0           0
B047       81920           0           0
B048       41960           0           0
B048       41960           0           0
B048       41960           0           0
B048       41960           0           0
B048       41960           0           0
B048       41960           0           0
B048       41960           0           0
B048       41960           0           0
B049       81920           0           0
B049       81920           0           0
B049       81920           0           0
B049       81920           0           0
B049       81920           0           0
B049       81920           0           0
B049       81920           0           0
B049       81920           0           0
B050       41960           0           0
B050       41960           0           0
B050       41960           0           0
B050       41960           0           0
B050       41960           0           0
B050       41960           0           0
B050       41960           0           0
B050       41960           0           0
B051       81920           0           0
B051       81920           0           0
B051       81920           0           0
B051       81920           0           0
B051       81920           0           0
B051       81920           0           0
B051       81920           0           0
B051       81920           0           0
B052       41960           0           0
B052       41960           0           0
B052       41960           0           0
B052       41960           0           0
B052       41960           0           0
B052       41960           0           0
B052       41960           0           0
B052       41960           0           0
B053       81920           0           0
B053       81920           0           0
B053       81920           0           0
B053       81920           0           0
B053       81920           0           0
B053       81920           0           0
B053       81920           0           0
B053       81920           0           0
B054       41960           0           0
B054       41960           0           0
B054       41960           0           0
B054       41960           0           0
B054       41960           0           0
B054       41960           0           0
B054       41960           0           0
B054       41960           0           0
B055       81920           0           0
B055       81920           0           0
B055       81920           0           0
B055       81920           0           0
B055       81920           0           0
B055       81920           0           0
B055       81920           0           0
B055       81920           0           0
B056       41960           0           0
B056       41960           0           0
B056       41960           0           0
B056       41960           0           0
B056       41960           0           0
B056       41960           0           0
B056       41960           0           0
B056       41960           0           0
B057       81920           0           0
B057       81920           0           0
B057       81920           0           0
B057       81920           0           0
B057       81920           0           0
B057       81920           0           0
B057       81920           0           0
B057       81920           0           0
B058       41960           0           0
B058       41960           0           0
B058       41960           0           0
B058       41960           0           0
B058       41960           0           0
B058       41960           0           0
B058       41960           0           0
B058       41960           0           0
B059       81920           0           0
B059       81920           0           0
B059       81920           0           0
B059       81920           0           0
B059       81920           0           0
B059       81920           0           0
B059       81920           0           0
B059       81920           0           0
B060       41960           0           0
B060       41960           0           0
B060       41960           0           0
B060       41960           0           0
B060       41960           0           0
B060       41960           0           0
B060       41960           0           0
B060       41960           0           0
B061       81920           0           0
B061       81920           0           0
B061       81920           0           0
B061       81920           0           0
B061       81920           0           0
B061       81920           0           0
B061       81920           0           0
B061       81920           0           0
B062       41960           0           0
B062       41960           0           0
B062       41960           0           0
B062       41960           0           0
B062       41960           0           0
B062       41960           0           0
B062       41960           0           0
B062       41960           0           0
B063       81920           0           0
B063       81920           0           0
B063       81920           0           0
B063       81920           0           0
B063       81920           0           0
B063       81920           0           0
B063       81920           0           0
B063       81920           0           0

ADDRESS    EXPECTED ACTUAL   REREAD1  REREAD2  FAILBITS TPSEIB ROW  COL
---------- -------- -------- -------- -------- -------- ------ ---- ---
00009a6e7c 00000000 ffffffff ffffffff ffffffff ffffffff WB10e7 0026 1df
00009a6e78 00000000 ffffffff ffffffff ffffffff ffffffff WB10e6 0026 1de
00009a6e74 00000000 ffffffff ffffffff ffffffff ffffffff WB10e5 0026 1dd
00009a6e70 00000000 ffffffff ffffffff ffffffff ffffffff WB10e4 0026 1dc
00009a6e6c 00000000 ffffffff ffffffff ffffffff ffffffff WB10e3 0026 1db
00009a6e68 00000000 ffffffff ffffffff ffffffff ffffffff WB10e2 0026 1da
00009a6e64 00000000 ffffffff ffffffff ffffffff ffffffff WB10e1 0026 1d9
00009a6e60 00000000 ffffffff ffffffff ffffffff ffffffff WB10e0 0026 1d8
00009a6e5c 00000000 ffffffff ffffffff ffffffff ffffffff WB10e7 0026 1d7
00009a6e58 00000000 ffffffff ffffffff ffffffff ffffffff WB10e6 0026 1d6
00009a6e54 00000000 ffffffff ffffffff ffffffff ffffffff WB10e5 0026 1d5
00009a6e50 00000000 ffffffff ffffffff ffffffff ffffffff WB10e4 0026 1d4
00009a6e4c 00000000 ffffffff ffffffff ffffffff ffffffff WB10e3 0026 1d3
00009a6e48 00000000 ffffffff ffffffff ffffffff ffffffff WB10e2 0026 1d2
00009a6e44 00000000 ffffffff ffffffff ffffffff ffffffff WB10e1 0026 1d1
00009a6e40 00000000 ffffffff ffffffff ffffffff ffffffff WB10e0 0026 1d0
00009a5e7c 00000000 ffffffff ffffffff ffffffff ffffffff WB00a7 0026 1df
00009a5e78 00000000 ffffffff ffffffff ffffffff ffffffff WB00a6 0026 1de
00009a5e74 00000000 ffffffff ffffffff ffffffff ffffffff WB00a5 0026 1dd
00009a5e70 00000000 ffffffff ffffffff ffffffff ffffffff WB00a4 0026 1dc
00009a5e6c 00000000 ffffffff ffffffff ffffffff ffffffff WB00a3 0026 1db
00009a5e68 00000000 ffffffff ffffffff ffffffff ffffffff WB00a2 0026 1da
00009a5e64 00000000 ffffffff ffffffff ffffffff ffffffff WB00a1 0026 1d9
00009a5e60 00000000 ffffffff ffffffff ffffffff ffffffff WB00a0 0026 1d8
00009a5e5c 00000000 ffffffff ffffffff ffffffff ffffffff WB00a7 0026 1d7
00009a5e58 00000000 ffffffff ffffffff ffffffff ffffffff WB00a6 0026 1d6
00009a5e54 00000000 ffffffff ffffffff ffffffff ffffffff WB00a5 0026 1d5
00009a5e50 00000000 ffffffff ffffffff ffffffff ffffffff WB00a4 0026 1d4
00009a5e4c 00000000 ffffffff ffffffff ffffffff ffffffff WB00a3 0026 1d3
00009a5e48 00000000 ffffffff ffffffff ffffffff ffffffff WB00a2 0026 1d2
00009a5e44 00000000 ffffffff ffffffff ffffffff ffffffff WB00a1 0026 1d1
00009a5e40 00000000 ffffffff ffffffff ffffffff ffffffff WB00a0 0026 1d0
00009a2e7c 00000000 ffffffff ffffffff ffffffff ffffffff WB10e7 0026 05f
00009a2e78 00000000 ffffffff ffffffff ffffffff ffffffff WB10e6 0026 05e
00009a2e74 00000000 ffffffff ffffffff ffffffff ffffffff WB10e5 0026 05d
00009a2e70 00000000 ffffffff ffffffff ffffffff ffffffff WB10e4 0026 05c
00009a2e6c 00000000 ffffffff ffffffff ffffffff ffffffff WB10e3 0026 05b
00009a2e68 00000000 ffffffff ffffffff ffffffff ffffffff WB10e2 0026 05a
00009a2e64 00000000 ffffffff ffffffff ffffffff ffffffff WB10e1 0026 059
00009a2e60 00000000 ffffffff ffffffff ffffffff ffffffff WB10e0 0026 058
00009a2e5c 00000000 ffffffff ffffffff ffffffff ffffffff WB10e7 0026 057
00009a2e58 00000000 ffffffff ffffffff ffffffff ffffffff WB10e6 0026 056
00009a2e54 00000000 ffffffff ffffffff ffffffff ffffffff WB10e5 0026 055
00009a2e50 00000000 ffffffff ffffffff ffffffff ffffffff WB10e4 0026 054
00009a2e4c 00000000 ffffffff ffffffff ffffffff ffffffff WB10e3 0026 053
00009a2e48 00000000 ffffffff ffffffff ffffffff ffffffff WB10e2 0026 052
00009a2e44 00000000 ffffffff ffffffff ffffffff ffffffff WB10e1 0026 051
00009a2e40 00000000 ffffffff ffffffff ffffffff ffffffff WB10e0 0026 050
00009a1e7c 00000000 ffffffff ffffffff ffffffff ffffffff WB00a7 0026 05f
00009a1e78 00000000 ffffffff ffffffff ffffffff ffffffff WB00a6 0026 05e
00009a1e74 00000000 ffffffff ffffffff ffffffff ffffffff WB00a5 0026 05d
00009a1e70 00000000 ffffffff ffffffff ffffffff ffffffff WB00a4 0026 05c
00009a1e6c 00000000 ffffffff ffffffff ffffffff ffffffff WB00a3 0026 05b
00009a1e68 00000000 ffffffff ffffffff ffffffff ffffffff WB00a2 0026 05a
00009a1e64 00000000 ffffffff ffffffff ffffffff ffffffff WB00a1 0026 059
00009a1e60 00000000 ffffffff ffffffff ffffffff ffffffff WB00a0 0026 058
00009a1e5c 00000000 ffffffff ffffffff ffffffff ffffffff WB00a7 0026 057
00009a1e58 00000000 ffffffff ffffffff ffffffff ffffffff WB00a6 0026 056
00009a1e54 00000000 ffffffff ffffffff ffffffff ffffffff WB00a5 0026 055
00009a1e50 00000000 ffffffff ffffffff ffffffff ffffffff WB00a4 0026 054
00009a1e4c 00000000 ffffffff ffffffff ffffffff ffffffff WB00a3 0026 053
00009a1e48 00000000 ffffffff ffffffff ffffffff ffffffff WB00a2 0026 052
00009a1e44 00000000 ffffffff ffffffff ffffffff ffffffff WB00a1 0026 051
00009a1e40 00000000 ffffffff ffffffff ffffffff ffffffff WB00a0 0026 050
00000a6b3c 00000000 ffffffff ffffffff ffffffff ffffffff WB00b7 0002 1cf
00000a6b38 00000000 ffffffff ffffffff ffffffff ffffffff WB00b6 0002 1ce
00000a6b34 00000000 ffffffff ffffffff ffffffff ffffffff WB00b5 0002 1cd
00000a6b30 00000000 ffffffff ffffffff ffffffff ffffffff WB00b4 0002 1cc
00000a6b2c 00000000 ffffffff ffffffff ffffffff ffffffff WB00b3 0002 1cb
00000a6b28 00000000 ffffffff ffffffff ffffffff ffffffff WB00b2 0002 1ca
00000a6b24 00000000 ffffffff ffffffff ffffffff ffffffff WB00b1 0002 1c9
00000a6b20 00000000 ffffffff ffffffff ffffffff ffffffff WB00b0 0002 1c8
00000a6b1c 00000000 ffffffff ffffffff ffffffff ffffffff WB00b7 0002 1c7
00000a6b18 00000000 ffffffff ffffffff ffffffff ffffffff WB00b6 0002 1c6
00000a6b14 00000000 ffffffff ffffffff ffffffff ffffffff WB00b5 0002 1c5
00000a6b10 00000000 ffffffff ffffffff ffffffff ffffffff WB00b4 0002 1c4
00000a6b0c 00000000 ffffffff ffffffff ffffffff ffffffff WB00b3 0002 1c3
00000a6b08 00000000 ffffffff ffffffff ffffffff ffffffff WB00b2 0002 1c2
00000a6b04 00000000 ffffffff ffffffff ffffffff ffffffff WB00b1 0002 1c1
............
00000337a8 00000000 ffffffff ffffffff ffffffff ffffffff WB1072 0000 06a
00000337a4 00000000 ffffffff ffffffff ffffffff ffffffff WB1071 0000 069
00000337a0 00000000 ffffffff ffffffff ffffffff ffffffff WB1070 0000 068
000003379c 00000000 ffffffff ffffffff ffffffff ffffffff WB1077 0000 067
0000033798 00000000 ffffffff ffffffff ffffffff ffffffff WB1076 0000 066
0000033794 00000000 ffffffff ffffffff ffffffff ffffffff WB1075 0000 065
0000033790 00000000 ffffffff ffffffff ffffffff ffffffff WB1074 0000 064
000003378c 00000000 ffffffff ffffffff ffffffff ffffffff WB1073 0000 063
0000033788 00000000 ffffffff ffffffff ffffffff ffffffff WB1072 0000 062
0000033784 00000000 ffffffff ffffffff ffffffff ffffffff WB1071 0000 061
0000033780 00000000 ffffffff ffffffff ffffffff ffffffff WB1070 0000 060
00000307bc 00000000 ffffffff ffffffff ffffffff ffffffff WB0037 0000 06f
00000307b8 00000000 ffffffff ffffffff ffffffff ffffffff WB0036 0000 06e
00000307b4 00000000 ffffffff ffffffff ffffffff ffffffff WB0035 0000 06d
00000307b0 00000000 ffffffff ffffffff ffffffff ffffffff WB0034 0000 06c
if you are getting failure for first MBof FB then try option -no_scan_out
Error Code = 00000001 

                                        
 #######     ####    ########  ###      
 #######    ######   ########  ###      
 ##        ##    ##     ##     ###      
 ##        ##    ##     ##     ###      
 #######   ########     ##     ###      
 #######   ########     ##     ###      
 ##        ##    ##     ##     ###      
 ##        ##    ##  ########  ######## 
 ##        ##    ##  ########  ######## 
Here we can see the damage around the B0/1 VRAM channel area. Very lucky to have a schematic, so easy to find what the missing components are.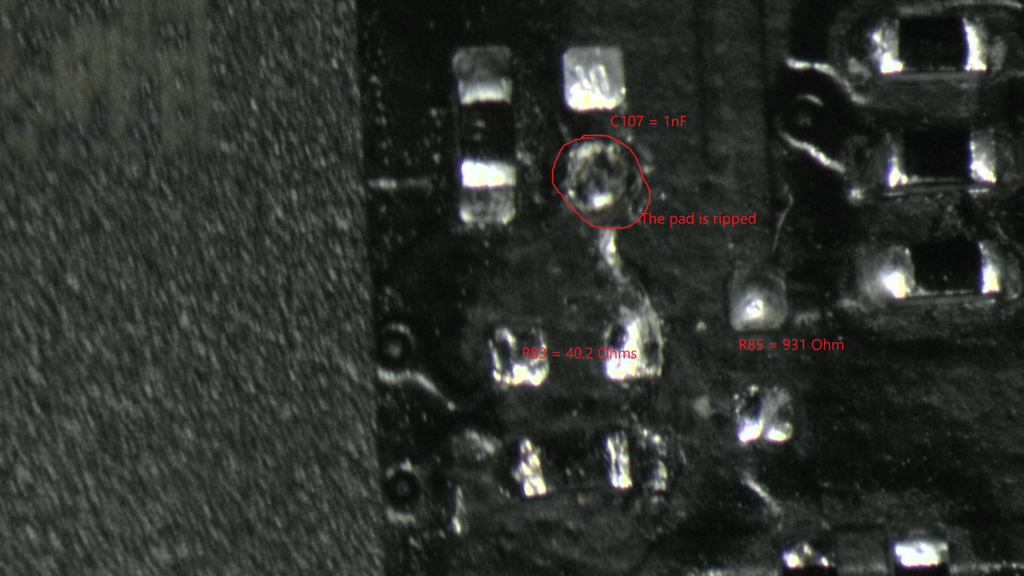 Next Steps
Repair that ripped pad, and add a little solder mask to the ripped trace too.
Replace C107 0403, I have some in stock.
For R83 and R85, I don't have close replacements, so they may have to come from card A if that card ends up looking like donor material.